ULTIMATE RELAXATION
Massage at Orvis Hot Springs
Getting a massage at Orvis Hot Springs in Ridgway, Colorado is the perfect way to relax and unwind from your busy life. We have a very talented team of massage therapists, trained in diverse modalities, available from 9:00am to 9:00pm daily. Simultaneous massages are also available.
Treat yourself or a loved one to a massage because…
Massages pair well with soaking to provide deep relaxation and healing.
A massage makes the perfect gift for birthdays, anniversaries, holidays and more.
Massages are great for a wedding weekend to help release tension and celebrate.
Massage therapy can improve your experience before and after enjoying outdoor adventure activities in the Ridgway area.
At Orvis Hot Springs, all massages are performed in our elegant yurts, which are modern adaptations of the ancient shelter used by Central Asian nomads for centuries. Our yurts provide a quiet, cozy environment where our massage therapists will help you return to a balanced state of body, mind and spirit. Be sure to enjoy our hot springs and sauna before and after your massage for maximum rejuvenation.
Our yurts are thoroughly cleaned and sanitized between each treatment. Your therapist will wear a face covering throughout your entire session and you will have a mask on while face up. We take your health and the health of our massage team very seriously here at Orvis Hot Springs.
Massage Rates at Orvis Hot Springs
Soaking in the natural hot springs (valued at $28) is included in the price of each massage that is one hour or longer.
1/2 Hour Massage: $55
1 Hour Massage: $110
1 1/2 Hour Massage: $150
2 Hour Massage: $210
75 minute Watsu Massage: $145
Watsu Massage Treatment
Watsu, a term blending water and shiatsu, is a nurturing form of bodywork that takes place in warm non-chlorinated water.
Since it was developed, by Harold Dull in the 80's, it has become one of the most beneficial therapies in the world. As you float, fully supported, your therapist will use massage techniques to soften your muscles and open your energy pathways. Your body reaches a deep state of relaxation allowing your mind to follow. This is an enlightening experience unlike any other.
Swimsuits are required.
Watsu Massage – $145   75 minute session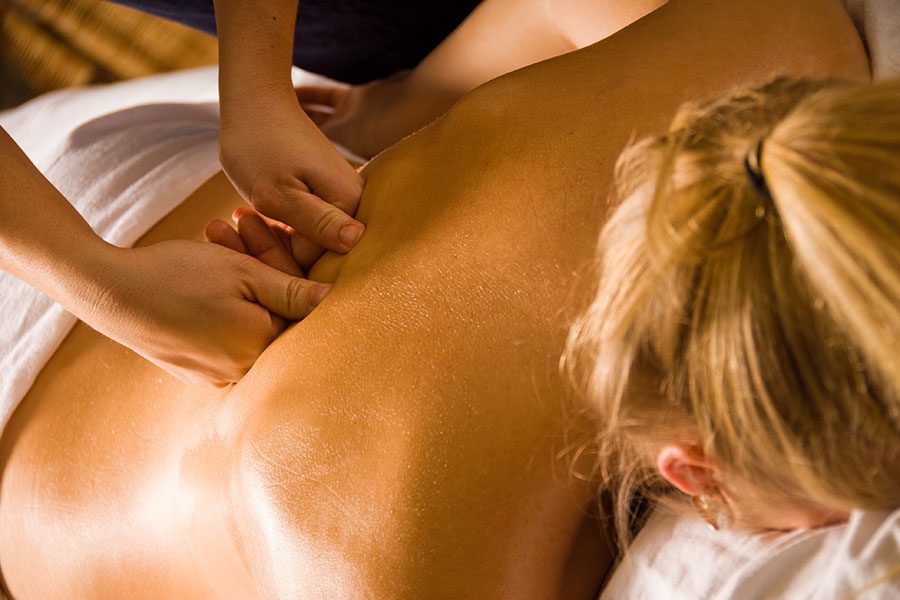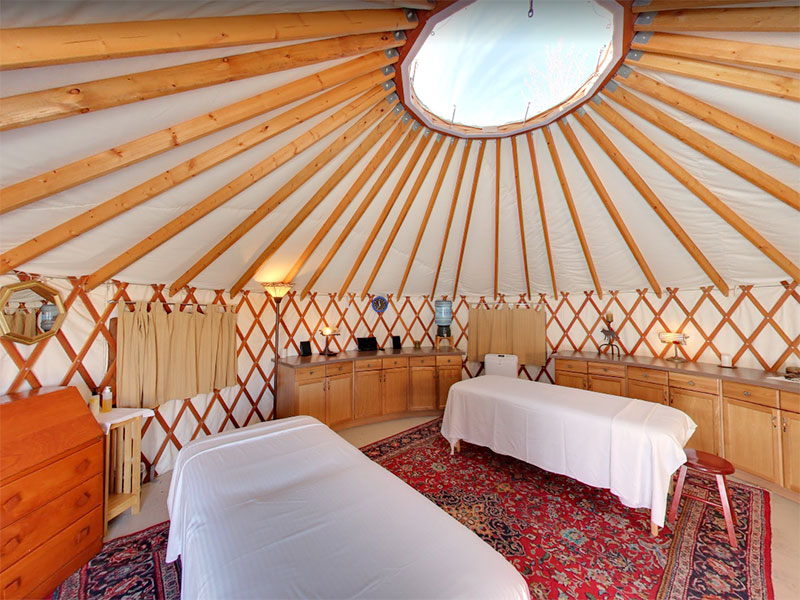 Cancellation Policy and Fees
All services require a $20 non refundable deposit to guarantee a reservation so please have your credit card and/or gift certificate ready when booking.
Your therapy times are reserved exclusively for you. We value your business and ask that you respect our scheduling policies. Should you need to cancel or reschedule, please notify us at least 48 hours in advance or you could be charged for the appointment.
Clients who miss their appointments without giving any prior notification will be charged in full for the scheduled service. We recognize the time of our clients and staff is valuable and have implemented this policy for this reason. When you miss an appointment with us, our therapists not only lose your business, but also the potential business of other clients who could have scheduled an appointment for the same time. Additionally, many times our staff will be functioning in an "on-call" status and may have traveled to the office specifically for your service. For these reasons, we are obligated to compensate our staff for their time.
Arriving late
If you are late to your session you are welcome to receive whatever time is left in your appointment. Due to our tightly booked schedule we are generally unable to extend your session beyond your original appointment time. Regardless of the length of the service actually given, you will be responsible for payment of the full service you scheduled.
CBD Massage at Orvis Hot Springs
CBD(cannabidiol) has many health and wellness benefits on its own, but paired with massage it seems to fit perfectly!
CBD massage oils and topicals help reduce inflammation, reduce chronic pain, and alleviate stress and anxiety.
$30 add-on to any massage
Click here to see what The Spa Industry Association has to say!
Click here to check out Sacred Herbal Extracts!
VERSATILITY IN THERAPIES
Massage at Orvis Hot Springs
Swedish Massage
A system of therapeutic massage and exercise for the muscles and joints, developed in Sweden in the 1800s, it is the most commonly used form of classical Western massage, generally performed in the direction of the heart, sometimes with active or passive movement of the joints. It is used especially for relaxation, relief of muscular tension and improvement of circulation and range of motion.
Sports Massage
A group of contemporary Western massage techniques designed to enhance athletic performance and promote healing post-injury, it can include Swedish massage, cross-fiber friction massage, deep-compression massage, and trigger-point therapy.
Energy Work
Techniques originating from ancient traditions and recent discoveries, energy work is used to manipulate the bioenergy of the patient with the goal of restoring harmony or removing blockages from within the body.
Deep Tissue Massage
A group of massage techniques designed to access multiple layers of muscle and fascia to improve alignment, reduce levels of resting tension and create more efficient postural and movement patterns. The therapist uses their fingers, thumbs and elbows to release chronic muscle tension, using slow, deep strokes and friction. It can increase blood flow, decrease muscle pain, rehabilitate muscle injuries, and reduce arthritic pain.
Integrative
Mainstream and alternative massage therapies to treat musculoskeletal disease, this combination of modalities helps address the unique needs of each massage client.
Shiatsu
A manipulative therapy developed in Japan, Shiatsu involves applying pressure to special points or areas on the body to maintain physical and mental well-being, treat disease, and alleviate discomfort. Shiatsu can reduce stress, relieve nausea, improve circulation, boost the immune system, and alleviate insomnia, among many other benefits.
Thai
A form of bodywork intended to redistribute and unblock an impeded flow of energy, this massage form can reduce muscle tension, improve joint function and blood circulation, reduce pain and headaches, and balance and increase energy.
Accupressure
A form of touch therapy that utilizes the principles of acupuncture and Chinese medicine, acupressure uses finger pressure on the same points on the body as acupuncture. It has been known to treat many conditions such as headaches, body pain, arthritis, allergies, asthma, nervous tension, menstrual cramps, sinus problems and toothaches.
Other Modalities
Other types of massage offered at Orvis Hot Springs between Ridgway and Ouray include: Lomi-Lomi Movement, Tragger Approach, Polarity, Watsu, Structural Balancing, Stretching, chi nei tsang, CranialSacral, Myofacial Release, and Orthno-Bionomy. To learn more about any of these massage therapy options, please contact Orvis.
Melissa was great. Whether you are a lifelong Ridgway resident or just passing through it is a must. She listened to my thoughts on trouble spots and was right on with her assessment. The massage was one of the best I have had. Scheduling was easy and the location was very convenient.